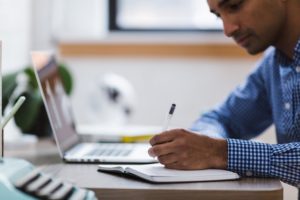 Writing a series is standard operating procedure for self-published authors who are seeking to pad their catalogs. The formula is simple: stretch a story concept across two, three, four books or more, and voilà—you're a multi-title author with a respectable little catalog to your name. (Here's how that works.)
But tackling a series is a serious handicap for freshman authors still mastering how to craft a story. It's difficult enough to learn how to assemble all the moving parts of a full-length novel without also trying to string out the process across multiple volumes and thousands of pages. That's a ridiculously high difficulty setting, and it's no wonder many authors crumple before the finish line or produce a series that peters out with a whimper.
Even professional editing can't salvage a conceptually weak series. Inexperienced authors tend to offload their best ideas in the first book, and no amount of editing can prop up a series once the initial burst of content has run dry.
How Many Stories?
The very first decision a series author has to make is what type of series to create. Are you telling a single story across many books, or are you writing many books based on common elements?
The big-daddy benchmark of series writing is the trilogy. Trilogies have come to be expected in genres like speculative fiction. These series tell a single story over three or even more volumes: The Lord of the Rings, The Hunger Games series, the Harry Potter series, and many others. Some of these (The Lord of the Rings) were written as one massive story and split by the publisher into smaller, more digestible books; others were designed from day one as single stories within a larger tale.
Another type of series is unified by a common setting, character, or group of characters. Consider Patrick O'Brian's Aubrey & Maturin nautical history series (you've probably heard of Master and Commander), the Jack Reacher series, and the No 1 Ladies' Detective Agency series.
No matter what type of series you've designed, every book must stand on its own to at least some degree. A book that's nothing but a stepping stone feels like a side dish presented as a dinner course. And while you might not want readers to enter a series on Book Two, some inevitably will—so write something compelling enough to capture those readers too.
Planning is the key. These are the series writing resources I share most with my own clients, drawn from some of the savviest, most respected authors of writing advice. You should aim to work through all of these issues before you begin writing your series.
Structuring a Series
6 Things to Consider Before Writing a Series
How to Write a Book Trilogy: 5 Crucial Steps
How to Outline a Series of Bestselling Books
Writing a Series: How Much Do We Need to Plan Ahead?
Common Issues With Series Writing
5 Tips on Writing a Cliffhanger
How to Write a Series: 8 Notice Mistakes to Avoid
Spin-Offs, Sequels, and Prequels
Writing Secondary Characters That Pop—and Sell More Books
Publishing a Sequel: 8 Book Marketing Tips You Need to Know
Best Practices for Aspiring Series Authors
A series represents a significant investment of time and money for you and your readers alike. Make sure you're ready to shoulder the responsibility.
1. Know what type of series you'd like to write and how they work. Read well-written series in the style you'd like to emulate. In speculative fiction, try N.K. Jemisin's The Broken Earth series. If you're writing YA, get to know J.K. Rowling's Harry Potter series. For thrillers, read Lee Child's Jack Reacher series.
2. Don't waste time writing multiple books of a concept readers aren't likely to buy. You need an understanding of both the current market and your genre's literary roots. What's already been done? What are readers still hungry for? Nobody's going to coach you through all the things you've missed if you haven't picked up a book in years, and few readers will have patience for an author whose story sensibilities are obviously outdated. The solution: voracious reading.
3. Get a standalone novel under your belt. Do you know how to structure, write, finish, revise, and sell a novel? If you don't know how to get a single novel into the air, what makes you think it will be worth your time and budget to launch an entire squadron of first efforts? Writing a standalone novel forces you to create a story that works right here, right now. There's no wiggle room to allow overwriting or spineless narrative arcs to dribble over into the next book. Learn to walk before you run.
---
If you're struggling to sort out how the parts of your series work together, try my series checkup service. It's an affordable way to zero in on the elements that will drive your plot from start to finish, including a book map that shows how everything works together across the entire series.